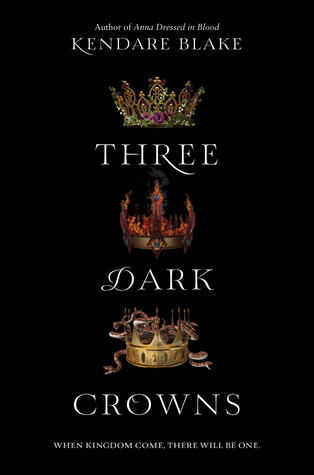 Three Dark CrownsThree Dark Crowns #1
by Kendare Blake
Goodreads
My first book review for the year after recovering from a reading slump and Three Dark Crowns had me wondering what I read. The premise of triplet queens born with supernatural abilities was initially what got me to read this book. While the book shines in certain areas, it weakens in others.
The story started off slow and steady and stayed at that rate for about seventy percent of the book. In the beginning, the author introduced readers to the three sisters, Katherine, Arsinoe, and Mirabella. They lived in separate cities to improve their specialties with eventually they will meet in the capital to compete to become a sole queen. The space in between these events brought no excitement in terms of character or plot development.
Character development among the queens showed minimal changes with most of them staying the same as they were from the beginning of the story to the end. I expected each of them to gradually build that fierce nature that is often found in YA books, but I certainly should not assume in this case. They are not very outspoken queens at the age of rebellion; rather delicate wallflowers getting ready for debut. I like Katherine and Mirabella more since they displayed some likable traits whereas ignorant Arsinoe running around doing foolish acts certainly was not the apple of my eyes.
A plot of a messy war full of fighting and dirty politics foreshadowed by the premise; yet no one got their hands dirty. In its place a plot filled with the queens going on with their daily lives and numerous characters introduction appearing out of nowhere. While they struggle with their power, readers struggle with grasping the story.
Cliffhanger ending was where this story got me. I would say this was the real excitement in this whole book. I see what the author did there. It intrigues readers to read the next book to find out what would happen next.
Rating: