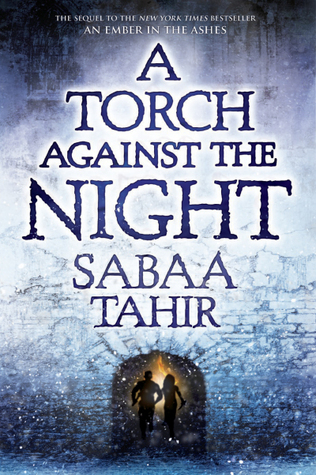 A Torch Against the Night
(An Ember in the Ashes #2)
by Sabaa Tahir
Goodreads
"Failure doesn't define you. It's what you do after you fail that determines whether you are a leader or a waste of perfectly good air."
If you need to find me, I have sold my soul to the Soul Catcher.
A Torch Agains the Night picks up right where the first book left off. Readers continue to follow the mysterious paths of Elias and Laia as they journey to Kauf Prison to rescue Darin. Meanwhile Helene has to deal with the responsibilities that came along with being the Blood Shrike.
Let me just say that the sequel to An Ember in the Ashes did not failed in making me want to read more even after it ended. I braced myself to start to this book because for the very first time I was scared for what was in store. After calming myself down, I followed a trail of torches that lit the path that the author intended for me to follow. There were plenty of times I wanted to take a detour and strayed from the path, but the author always had a way to pull me back in.
Unlike the first book, where there were only two perspectives; readers get an additional character point of view, Helene, in the second one. They allow us to get into the mind of the characters, and at the same time let us know what is going on around them. Laia and Elias provided the intel on the Scholars while Helene is our eyes and ears on the Martial side.
The author further developed the characters into ones, whose readers would think twice before they underestimate them. Laia and Elias continue to be strong and reliable characters. To them, giving up is not an option. Helene developed the most in terms of how she first was. She realized she can't be loyal to the Empire and follow her heart at the same time; it's one or other.
It is possible to feel empty after selling my soul to the Soul Catcher, but it feels even more when I finish this book. My soul wants to reader yet sadly it has to patiently wait for the third book.
Rating: 5 stars