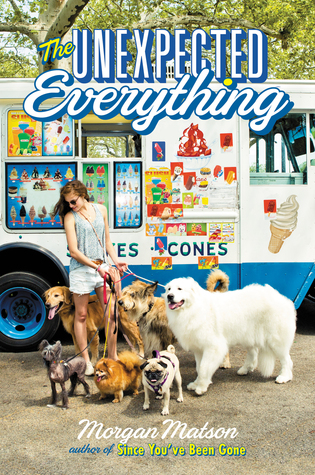 The Unexpected Everything
by Morgan Matson
Goodreads
"I looked up at him, and a thought passed through my brain before I could stop or analyze it. It's you ---of course it is. There you are."
Andie got her summer all planned out until there came changes in her plans. It will be the one summer that would unexpectedly change everything. Throw in her awesome friends and a cute boy then pretty much Andie is in for an exciting adventure.
Summer is around the corner, but with Morgan Matson's
the Unexpected Everything,
it came sooner than expected. The author led readers onto a delightful journey of finding what one is really looking for when plans go astray. Not to mention there to be never a dull moment with Andie.
Andie clearly does not like it when her plans goes not go as expected, so it was amusing to see her try to let lose and welcomed the unexpected. Clearly walking dogs would be last on her list, but it made her enjoy life more. Andie always wants the bests for everyone when the best for them is not the same what she think they need.
Development of the father and daughter relationship between Andie and her father warmed my heart.
Their strained interactions in the beginning made them realized simply ignoring the elephant in the room would not get them anywhere. Alexander Walker finally became the fatherly figure he was meant to be for Andie. I especially liked it when they participated in the scavenger hunt.
As for romance, it's certainly there. Never before have I squealed in my seat when the OTP held hands. One could only imagine how more excited I got when they reached first base i.e kissing. I became a fangirl of this amusing couple.
A topic in most Morgan Matson's book, friendship. Andie's tight group of friends can be labeled as BFF status. Out of her three friends, Palmer would be my favorite since she seemed more understanding and up for anything. Whereas the Bri and Toby have limits that once they're reached, there's no going back. Together they make a great group to hang out with, especially in a scavenger hunt.
Do they all live HEA? That's a good question! It's open for interpretations. Where is the fun in a definite ending when life is full of the unexpected?
If you're up for cheerful story or summer, then I highly recommend this book.
Rating: 4.5 stars