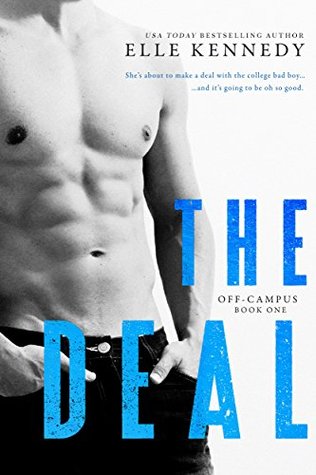 The Deal
(Off-campus #1)
by Elle Kennedy
Goodreads
"Sometimes people sneak up on you and suddenly you don't know how you ever lived without them. How you went about your day and hung out with your friends and fucked other people without having this one important person in your life."
Here's the deal: Hannah agreed to tutor Garrett to help raise his grades and in return he will help her get out of comfort zone to get the attention of her crush.
Saying the story line did not contained cliche elements would be an understatement; yet it
Garrett, Garrett, what are we going to do with you? For starter, if Hannah did not agree to tutor you, I would gladly volunteered in her place. His personality warmed me up fast with his charms, wittiness and plain old Garrett.
In came Hannah, who was not charmed immediately by Garrett. She has a strong trait to just move on with life and not let bad memories hinder her back. I admired her willingness to get out of her comfort by seeking help from a least likely person.
If you ever feel like reading a fun book, then look no farther. A delightful read that brought laughter, swooning, and steam among the pages.
Rating: 3.5 - 4 stars