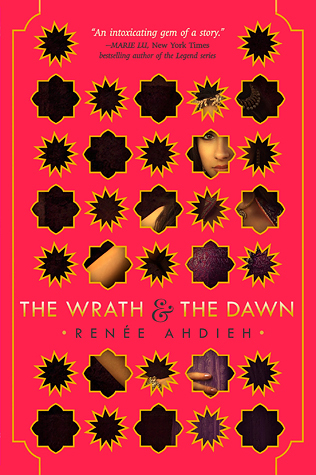 The Wrath and the Dawn
(The Wrath and the Dawn #1)
by Renee Ahdieh
Goodreads
"All our lives are forfeit, sayyidi. It is just a question of when. And I would like one more day." - Shahrzad
The Wrath and the Dawn
had taken me on a magic carpet ride that I did not want to end. Since I mentioned a magic carpet, the song, "A Whole New World" from the Aladdin movie constantly played in my head as I read this book. It did take me to "a whole new world" filled with mysteries, secrets, love, and magic.
The author transported me into a magical fairy tale-like world that I very much enjoyed. She retold a
1001 Nights,
but with her own spin to it. She weaved a story line that was hard to stop reading.
I have got to talk about the OTP (one true pairing) in this book: Shahrzad and Khalid. Shadrzad with her sass and Khalid with his mysterious demeanor ignited their intense chemistry. Officially, I am a fangirl for them now.
A cliff hanger ending that got me excited to read the sequel,
The Rose and the Dagger.
With that being said, you are in for a magical ride once you pick up this book.
Rating: 5/5