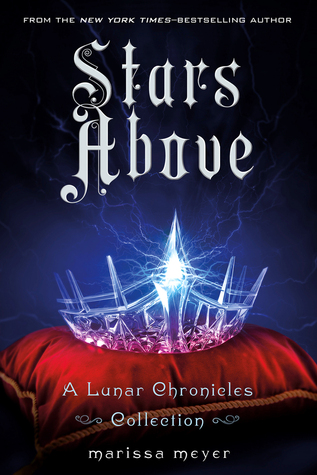 Stars Above
A Lunar Chronicles Collection
by Marissa Meyer
Goodreads
Once upon a time, Marissa Meyer introduced the Lunar Chronicles, and readers were introduced to a cyborg named Cinder. Then came the inevitable day when her adventure came to end. All hope was not lost until the author surprised readers with
Stars Above
which contain nine short stories with five never before published, and one of them being an epilogue to
Winter.
In every fairy tale contain a happily ever after, but this is not the end yet.
I immediately placed this book on my to be read once I heard of the epilogue. After finishing reading
Winter,
I wanted to know what would happen to the beloved characters in the future. My wish got granted when I heard news of this collection of short stories. As soon as it got released, I hurried to get my hands upon the book.
The Keeper
"Cinders. Embers. Ashes. Michelle hoped that whatever strength had allowed this child to survive the fire all those years ago was a strength that still burned inside her. That it would go burning, hotter and hotter, until she was bright as the rising sun."
Ever since I read
Scarlet,
I have been intrigued by Michelle Benoit's life before and after she became the keeper of Cinder's body. In
the Keeper,
I get a glimpse into side of the story that was missing. She should get a medal for her dedication to take care of the injured Princess Selene until she became well enough to regain the throne of Lunar.
Rating: 5/5 stars
Glitches
"Right. A glitch....Maybe that's all it is." - Cinder
Cinder's first encounter with her adopted family and discovered all androids have some form of glitch in them. A prequel to
Cinder.
Rating: 4/5
The Queen's Army
The transformation of Wolf into a soldier in Queen Levana's army. A Prequel to
Scarlet.
Rating: 4/5
Carswell's Guide to Being Lucky
"Already, he was moving on to the next goal, the next dream, the next obstacle."
Carswell Thorne before he became known as Captain Thorne , the notorious owner of the Rampion.
Thorne, oh how you have not changed since you were a thirteen years old boy with a big dream of being Captain of the Rampion. I'm glade to see his strict parents did not make him forget his dreams.
Rating: 4.5/5
After Sunshine Passes By
"Sweet Crescent Moon, up in the sky..."
A prequel to Cress before she find herself locked in the satellite alone.
A slight different Cress of when she first really met her in
Cress.
She always have some rebellious side and curiosity of outer space started at young, but she was a Shell, who was considered dangerous to Queen Levana. She was not permitted to see the outside world. Oh sweet Cress, why must the society be cruel to you just because you are a Shell.
Rating: 4/5
The Princess and the Guard
"This is why I can't leave you, Winter. This is why I'll never leave." - Jacin
The moment when Jacin and Winter knew their fate were sealed.
If my heart did not swooned for Jacin anymore in
Winter,
it apparently did when I read this short story. He sacrificed his dreams just to be with her. A moment to swoon. On another note, I admire Winter determination to not use her gift even if it may have cost her beauty.
Rating: 5/5
The Little Android
"But she was already vast and bright and endless."
A retelling of
the Little Mermaid
in where Star, an android, fell in love with a human.
An unique twist this classic fairy tale that we all know. The whole time I was reading this short story, the song "Part of Your World" played in my head. If only Stars could be a part of the human world, but she was only a android with a big dream.
Rating: 4/5
The Mechanic
"Maybe he'd make her smile. A real smile."
From Kai's perspective, his first impression of Cinder when they first met in
Cinder.
Oh my goodness yay to be able to read about Kai's thoughts of when they first crossed path. I really like reading the guy point of view to see if he felt the same way the girl did. Indeed it was like at first sight; more like he was intrigued by her.
Rating: 4.5/5
Something Old, Something New
The highly anticipated epilogue to
Winter,
and one of the reason I rushed out to get this book when it got released. I was literally squealing in my seat like a fan girl when I read this. I don't want to reveal much of this short story, but indeed it does contain a wedding out of this galaxy.
Rating: 5/5
Overall rating: 5/5 stars