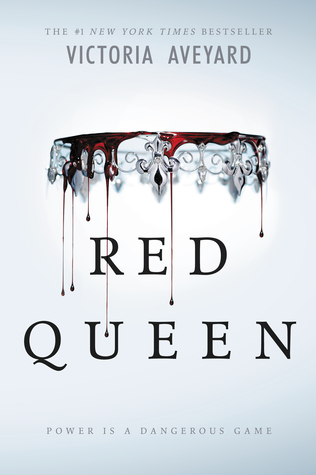 Red Queen (Red Queen #1)
by Victoria Aveyard
Goodreads
"You are now Red in the head, Silver in the heart." - Mare Barrow
Welcome to a world, where people are divided based upon the color of their blood, red and silver. Silvers dominate society with their superhuman abilities. Unlike them, Reds do not carry any mythical power in their blood. In walks in Mare Barrow, a Red, who somehow posses power of her own. To cover this up, the king gives her a new identity, crowns her as a princess, and arranges her to marry a prince.
Red Queen
had been sitting on my bookshelf for quite a long time; I finally decided to pick it up late last year. Going into this book I had a slight idea of what I was getting myself into, but I did not except it to be much better than I thought. I understand the hype of it now.
The author weaved a unique dystopian society, where it's not what it all seem to be. A tough world that discriminate people by their blood. I am fascinated at how a different in blood brings out supernatural abilities.
As for the characters, they make me love and despise them each differently. Let's start with the ones I absolutely adore. Lady first, Mare, a fierce female protagonist, who is literally a force to be wrecking with. She does not let anyone sass her. Although she posses these strong traits, she feels insecure upon her being unique from anyone. There's nothing wrong with being different. Truly it distinguish us from everyone else.
Next up is Cal, a prince/heir to the throne with weight of the world on his shoulder. He has some bad and good traits in him:
"Cal emerges, this time fully dressed in plain clothes. After a moment, I realize it's the same thing he wore the night I met him. I can't believe I didn't see him for what he was from the beginning: a wolf in sheep's clothing. And now I'm the sheep pretending to be a wolf."
Mare describe him as a wolf in sheep's clothing, which is somewhat true to what I see him as. To me, he comes off more as a righteous kind of person, who at the end of the day think for what is right for his kingdom. He acts as a wolf when needed. His soft side that he shows to Mare, warm my heart.
As for the characters, who I despise, the list could be long, but let's keep it short for now. Maven, enough said. To those whom had read the book, you would know what I am talking about. I was not completely sold on him from the very beginning.
There does exist a complex romance in
Red Queen.
Mare at the center of this love square with three guys. I am intrigue at how this would plays out. Team Cal for me.
Did I mention there is a big plot twist? Yes, now I have. The author foreshadowed a dramatic event would occur, but I have no idea it would be that. Just know that:
"Anyone can betray anyone."
My final thoughts about
Red Queen,
a definitely must read to those whom love dystopian books. Very look forward to reading the sequel
Glass Sword.
Rating: 4.5/5 stars
Tired of reading? Watch my video review of
Red Queen: https://youtu.be/W18IUoRQ8gM