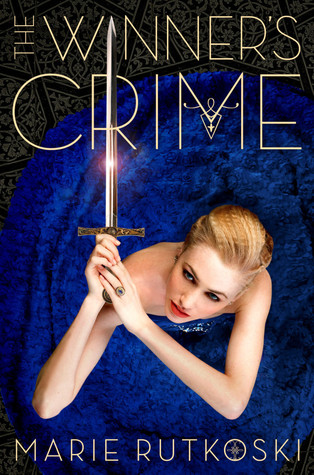 The Winner's Crime (The Winner's Trilogy #2)
by Marie Rutkoski
Goodreads
"Sometimes you think you want something...when what you need is to let it go." - Arin
Warning reading this book would literally tear your heart to pieces. I totally agree with whomever said this. After finishing this book, I am left speechless at how my heart is severely broken to pieces and tell myself to patiently wait for
the Winner's Kiss.
As for now let me tell you about
the Winner's Crime.
Kestrel has to live with the consequences of her actions from
the Winner's Curse
. Let me just say she sacrificed so much in the name of peace and love; yet she is not able to reveal her game plans to the one person, who matter the most, Arin.
"An emotion clamped down on her heart. It squeezed her into a terrible silence. But he said nothing after that, only her name, as if her name were not a name but a question. Or perhaps that wasn't how he had said it, and she was wrong, and she'd heard a question simply because the sound of him speaking her name made her wish that she were his answer."
If only all of this would simply be solved when he speaks her name. Physically she had to keep him at arm length while mentally she wanted to run into his arm. Can my heart break anymore than this? Yes, it can.
As she plays this dangerous game, she realized there were more as stake than she thought. All the people she encountered comes off as an ally or an enemy that she feels very lonely in the palace. Similar to a basic physics law, every action has a reaction, Kestrel strategically planned out her next tactics to counter those of the diabolic emperor. I am amazed at the author ability to plot the complex politics. Bravo bravo! Now back to more heart gripping contents.
The god of lies, Arin, himself shall not be left out of this ever so intense story. In the first book, I had a soft spot for this guy, but this was not certainly not the case in the second book. Instead of having faith in Kestrel's ability, he doubt her for every one of her actions, but then again she played her part quite well. Every time he questioned her, I wanted to scream to him that she was doing this all for him. Yes, more heart breaking. On the other hand, I rooted for Arin's bravery and willingness to fight for his country.
On to the brilliant plot twists, which the author had scattered amongst the pages. As I slowly starts to solve a plot twist, another one pop up out of nowhere. The author creates this story into something more than just how love required great sacrifices. There is more to it than meets the eyes. The two dimension characters magically transformed into three dimensional human beings with thoughts and feelings.
Starting
the Winner's Crime
I knew about the inevitable heartbreak, but there were to to it than I initially thought. It brought me wanting to know what would happen next. Until next time in
the Winner's Kiss.
"'I'm going to miss you when I wake up,' she whispered, because she realized that she must have fallen asleep under the sun. Arin was too real for her imagination. He was a dream.
'Don't wake up,' he said."
Rating: 5/5