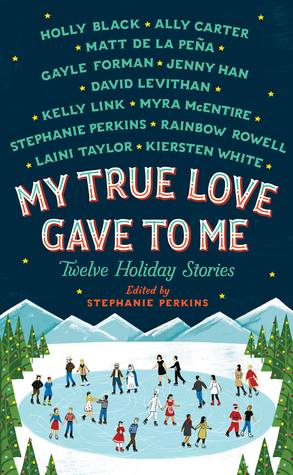 My True Love Gave to Me
by Holly Black, Ally Carter, Matt De La Pena, Gayle Forman, Jenny Han, David Levithan, Kelly Link, Myra McEntire, Stephanie Perkins, Rainbow Rowell, Lainin Taylor and Kiersten White
Edited by Stephanie Perkins
Goodreads
So happy that I picked this book up during the holidays because it made me feel more into the holiday spirit.
My True Love Gave to Me
contained some cute short stories, but it has some that I got me baffled at the complex story development. There were several authors I have not read before, I was thrilled to be able to read their work for the first time.
Midnights
by Rainbow Rowell
"Not everyone knows how to reach out for the things they want. Maybe midnight is exactly what these two need to get rolling-would you begrudge them that?" - Noel
Hands down one of favorite in this book. A well written short stories with a cute story line and lovable characters. The flashbacks works well with the story line; did not confuse me. I am definitely planning to read other works from this author.
Rating: 5/5
The Lady and the Fox
by Kelly Link
Rating: 3/5
Angels in the Snow
by Matt De La Pena
"Would you rather be great at something you like, or just okay at something you love?" - Shy
A contemporary short stories told from a male perspective about finding one's passion in life. The author introduced Shy, whose background is heartbreaking. I am not completely convinced on the intention of Haley. Her sincerity toward Shy seemed genuine.
Rating: 3/5
Polaris is Where You'll Find Me
by Jenny Han
An amusing story that I did not want to end. Unlike Jenny Han's other works, she added a little magic to the story line.
Rating 3.5/5
It's a Yuletide Miracle, Charlie Brown
by Stephanie Perkins
Another one of my favorite with a cute story about unintentionally buying a Christmas tree and finding more than what was bargained for.
Rating: 4/5
Your Temporary Santa
by David Levithan
Rating: 3/5
Krampuslauf
by Holly Black
Rating: 1/5
What the Hell have You Done, Sophie Roth?
by Gayle Forman
"There really was no such thing as a minor miracle."
Rating: 4/5
Beer Buckets and Baby Jesus
by Myra McEntire
Rating: 3/5
Welcome to Christmas, CA
by Kiersten White
Rating: 4/5
Star of Bethlehem
by Ally Carter
"And that missing piece? Sometimes you have to lose the rest of yourself to find it." - Aunt Mary
Rating: 3/5
The Girl Who Woke the Dreamer
by Laini Taylor
Rating: 2/5
Overall rating: 3/5