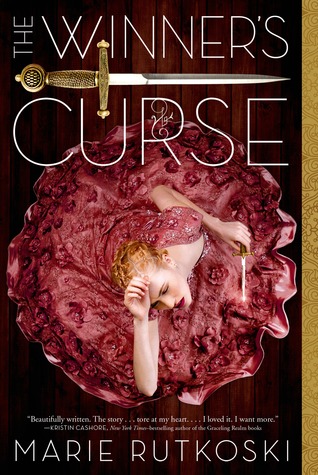 The Winner's Curse (The Winner's Trilogy #1)
by Marie Rutkoshi
Goodreads
"The Winner's Curse is when you come out on top of the bid, but only by paying a steep price." - Jess
For starter, I did not know what I got myself into when I started to read this book that by the time I arrived at the end, it bite and stung me in ways I never thought possible (reference Kestrel's favorite game: Bite and Sting). The story line completely drew me on. Never a dull moment with plot twists that appeared out of nowhere.
YA had found another warrior female to add to the impressive list, and her name is Kestrel:
"A kestrel is a hunting hawk." - Kestrel
True to her name, she's a force to be reckoned with. Once she starts a game, she fully intend to win it. I admired how her strategic mind make everything works in her favor. I rooted for her from the very first page. Aside from her shinning ability to manipulate a situation, I often find myself questioning her motive. I simply did not know what side she was on. It was not until toward the end of the book did I feel as though I better view of her.
Beside, a warrior girl, there exist Arin. From the very beginning, I had a soft spot for this guy even though I knew of his intentions. Similar to Kestrel, he possesses a fire to him to fight for rightness. He sacrifice himself for her made my heart ache.
Kestrel and Arin's complex love story tore my heart up. They are that one couple, whom I want to be together so bad that it hurts. They deserve some sort of happiness in their lives. A sense of peace that they all want.
I don't know how the author does it, but I definitely looking forward to reading
the Winner's Crime
now.
Rating: 4.5/5 stars