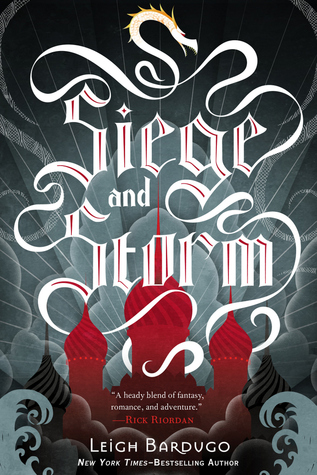 Siege and Storm (Grisha #2)
by Leigh Bardugo
source: Goodreads
"You know the problem with heroes and saints...They always end up dead." - Alina
True to its title, it siege me and storm my imagination once again to the world of Grisha. Compared to the first book,
Siege and Storm
contained a far better story line along with a better developed characters.
In
Shadow and Bone
Alina downed to earth character portrayed her as a fragile Sun Summoner, who did not knew the full extend of her power. Now, she did a complete 360 transformation from a feeble Grisha to a total badass in
Siege and Storm:
"I don't care if you think I'm a Saint or a fool or the Darkling's whore. If you want to remain at the Little Palace, you will follow me. And if you don't like it, you will be gone by tonight, or I will have you in chains. I am a soldier. I am the Sun Summoner. And I'm the only chance you have." - Alina
Woot woot! Way to go Alina! Girl, what took you so long? Finally, she becomes what she was meant to be. No longer the naive Grisha, who had zero confidence in herself. In her place, a powerful Sun Summoner, who was ready to shine as bright as a diamond. Although she shine in her ability, she lacked in the department of time management, especially alone time with Mal.
Mal made his appearance more frequent in this book and his character gradually grew on me. No longer does he keeps his feelings for Alina at bay, he made it obvious to everyone around him. At times, his jealousy got out of hand that made him very unlikable, but he cannot to be blamed for all of his stupidities. He gave up everything to be with Alina with no regrets.
"I came here for you. You're my flag. You're my nation." - Mal
Underneath it all, he felt insecure of their relationship. She is the all mighty Sun Summoner while he is nothing, but a deserted tracker
"You wanted to wear the second amplifier. You have it. You want to go to Os Alta? Fine, we'll go. You say you need the firebird. I'll find a way to get it for you. But when all this is over, Alina, I wonder if you'll still want me." - Mal
At the end of the day, readers know how much in love he is with Alina that he'll finds way to get back to her.
Then in comes Nikolai, who true intentions still holds mysterious. I shall not reveal who he really is because what is all the fun in that. He brought about comic relief from the deep developed story line.
How about the Darkling? Well, he does not make a heavy appearance as he does in
Shadow and Bone.
He came and went as a apparition in Alina's mind, but made a startling appearance later on.
As for the ending left me clasping for more. I want to know what to become of Alina's journey.
Ruin and Rising
awaits.
Rating: 4.5/5