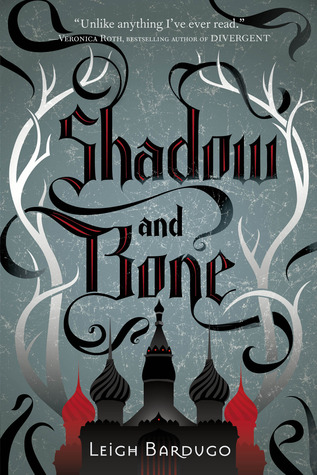 Shadow and Bone (The Grisha #1)
by Leigh Bardugo
"What is infinite? The universe and the greed of men."
Similar to other YA novels of characters finding themselves,
Shadow and Bone
takes readers into magical world of Grisha.
Alina possess a very down to earth personality that distinguish her from other female characters. Unlike others, who tend to hide any signs of weakness, she is not afraid to show her emotions and expressed her insecurities. This trait of hers got me so frustrated, but I get it that no characters were ever created perfect. Once she learned to embrace what she truly was, I rooted for her.
Team love triangle. Yes, indeed a tug of war between the Darkling and Mal with Alina in the middle of it all. I don't feel bother by this because Alina obviously admit who her heart long for. Although I have got of admit, both men have something very intriguing about them.
To those of you who want to pick a team in this love triangle, here are some beloved quotes from the Darkling and Mal:
Team Darkling:
"I've been waiting for you a long time, Alinda....You and I are going to change the world."
"The problem with wanting...is that it make us weak."
"Did you tell him what I showed you in the dark?"
Team Mal:
"I missed you every hour. And you know what the worst part was? It caught me completely by surprise. I'd catch myself walking around to find you, not for any reason, just out of habit, because I'd seen somethign that I wanted to tell you about or because I watned to hear your voice. And then I'd realized that you weren't there anymore, and every time, every single time, it was like having the wind knocked out of me. I've risked my life for you. I walked half the length of Ravka for you, and I'd do it again and again and again just to be with you, just to starve with you and freeze with you and hear you complain about hard cheese every day. So don't tel me we don't belong together...I'm sorry it took me so long to see you, Alina. But I see you now."
"I don't care if you danced naked on the roof of the Little Palace with him. I love you, Alina, even the part of you that loved him."
Onto my thoughts of the story line, which I though to be fascinating. The authors does not throw many plot twists at readers, yet there was still something that had readers wanting to know what would happened next. I plan to read
Siege and Storm
right after
Rating: 4/5