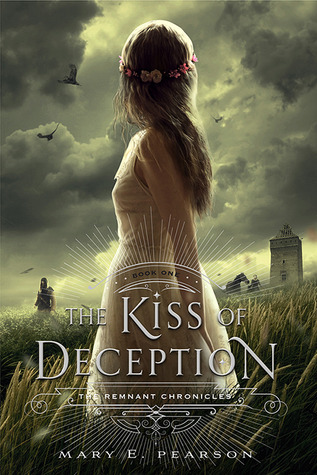 The Kiss of Deception (The Remnant Chronicles)
by Mary E. Pearson
source: Goodreads
"It can take years to mold a dream. It takes only a fraction of a second for it to be shattered."
Upon opening the first page of the
Kiss of Deception,
Lia instantly pulled me onto her journey as she escaped an arranged marriage. Unlike other princesses, who lived a privileged life, she willingly adapt to her surroundings without any ounce of complain. She sassed ignorant headed men, waited tables, and lived life to the fullest. Once she set her heart to something, she does not change it, especially when it comes to love.
In addition to Lia's perspective, it contained two additional perspective of an assassin and a prince. The author does not immediately revealed the identities of these individuals. Readers have to gathered clues the author shattered among the pages. Let's just say I did not correctly guess the status of Rafe and Kaden.
Rafe and Kaden rivaled for Lia's attention. Both men have secrets that have potential to hurt Lia; yet that does not hindered them from falling for her. Rafe, a sweet and clever person, who got me swooned in my seat with his confession to Lia:
"Because ever since the first day I met you, I've gone to sleep every single night thinking about you, and every morning when I wake, my first thoughts are of you....When I'm not with you, I wonder where you are. I wonder what you're doing. I think about how much I want to touch you. I want to feel your skin, your hair, run every dark strand through my fingers. I want to hold you, your hands, your chin....I want to pull you close and never let you go." - Rafe
A heartthrob to my heart. While Kaden does not openly confess his feelings toward her, he expressed it through his actions. He has a kind heart, but his past turned him into a harden person.
Although this book has multiple point of views, it did not make the story any less enjoyable. These multiple views carried the story along and made everything work. I really like getting into the heads of each of the characters to really see what is going on inside their minds.
A slight love triangle introduced in
the Kiss of Deception.
I said slight because
Rafe and Kaden may have caught the attention of Lia, it does not mean she harbored equal feelings for both. From the every beginning, she set her heart for one of them, and does not have a change of heart. I was not bothered by the complex romance because it did not overshadowed the plot of the story.
Mentioning of plot, there were plenty of plot twists that were thrown at the readers. I am really looking forward to where these hurdles lead the story. Might I add the ending of the book left at a cliffhanger, so I am looking forward to reading
the
Heart of Betrayal.
"But remember, child, we may all have our own story and destiny, and sometimes our seemingly bad fortune, but we're all part of a greater story too. One that transcends the soil, the wind, time...even our own tears...Greater stories will have their way." - Dihara
Rating: 4/5 stars