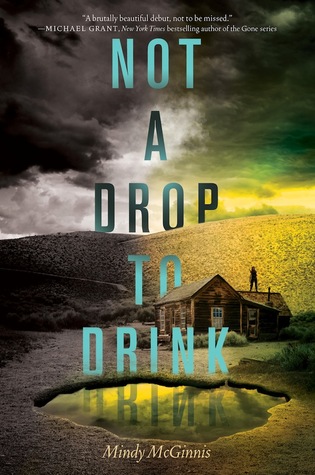 Not a Drop to Drink by Mindy McGinnis
image source: Goodreads
The premise for
Not a Drop to Dirnk
by Mindy McGinnis distinct itself from other dystopian book, where society has a shorten water supply. Although it may seem very fiction, but this idea of water shorten is not make believe at all; it's actually one of the biggest environmental concern. I really wanted to see how the author spin off this problem.
From the start, it was dynamic with action scenes and explanation of how Lynn survive in this world with her mother. By the time I got a quarter into the book, I felt it lacked the charismatic vibe it sent out in the very beginning. In its place bear a slow pacing story line, where I hit my "reading slump." Why? I did not feel as all enthusiastic to open this book, so I ended up putting it aside and starting another book.
My second attempt to read
Not a Drop to Drink
arrived, but I eventually realized maybe it's not meant to be. Before I completely DNF it, I got through about 20 pages of it. Let's just say it did not pick up as fast as I thought it would. Ta da it landed itself in my DNF bile.
As for now I am not incline to pick this book up again, but never say never. I will do another reading attempt at it; I do not know when.