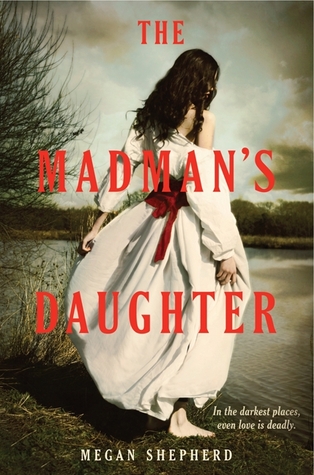 The Madman's Daughter by Megan Shepherd
image source: Goodreads
"There comes a point when one must make one's own decisions. Live one's own life." - Edward
Unlike most individuals in London, Juliet Moreau family was ruined by a scandal of her father's brutal experimentation on creatures. In attempt to forget about it, 16 years old Juliet busy herself with frequent visits to church and working at a maid. One night she is reunited with Montgomery, a childhood playmate, and assistance of her father. He revealed her father is very much alive on a secluded island continuing his experiments. With Montgomery, and Edward, a castaway, Juliet travels to this mysterious island to see her estranged father. This is one journey that will change her outlook of her life.
I came across
the Madman's Daughter
at a local used bookstore; the synopsis immediately drew me. This book was more than I expected it to be. For starter, I enjoyed the mix of goth, horror, historical, science fiction and young adult genres. The author well usage of medical terminology surprised me because it seemed she knew what she was talking about. Also, the characters developed to more than what they were in the beginning.
Although the book drew me into in so many aspects, I did not feel immediately immersed into the storyline. It was a slow start for me, but once I got more into it, it was difficult to put the book down.
Indeed a love triangle does exist in this book. The synopsis on the flap of the book hinted the individuals involved. Let's just say this love struggle of Juliet to whom to choose between Montgomery or Edward was a bit nerve wracking, but I could have been worst. Midway, I could tell who her heart beat for.
Here comes the part where I tell you if I recommend
the Madman's Daughter
by Megan Shepherd. Yes, I would. The plot twists after plot twists got me a whirlwind that I did not know what to expect next. After I am very looking forward to reading the sequel
Her Dark Curiosity.
Rating: 4.5/5 stars