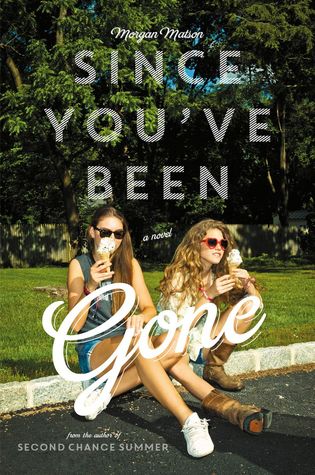 Since You've Been Gone by Morgan Matson
image source: Goodreads
"I don't think you have to do something so big to be brave. And it's the little things that are harder anyway." - Emily
Summer time arrive, but Emily discovered her best friend, Sloane had vanished with out a trace. One day she received a letter from Sloane that consisted of a to do list. Putting her shyness aside, Emily set out on a mission to complete this list. Along the way she will make new discoveries about herself and learn to just have fun in the process.
Aside from Kelly Clarkson's "Since You've Been Gone" immediately pop into my head upon hearing the title of this book, I had a blast reading it. It's a great summer reading book filled with adventures.
Since You've Been Gone
had characters, who were relatable, and fun story line with a deeper meaning behind it.
Morgan Matson created down to earth characters, who readers can relate to. I felt so connected to Emily since I found her and I shared some common traits. She was this shy quiet girl, who worried more than have fun. Determined to complete the list, she broke out of her shell to become someone, who was ready to embrace what life throws at her. I love reading stories, where characters go out of their comfort zones to become the people they truly meant to become. While Frank's character portrayed a genuine nice guy, who willing helped Emily complete her to do list.
I found similarities in the author's characters in
Since You've Been Gone
and
Amy and Roger's Epic Detour.
They shared some comparable traits in that they were each on a journey to find themselves. By the way, Amy was briefly mentioned in
Since You've Been Gone
.
Since You've Been Gone
carried a fun story line that contained deeper meaning. I had so many laughs as I read Emily's struggles and triumphs through various tasks. This book made me feel so absorbed into the story line that I forget the page number. It was not just about a girl, who wanted to complete her best friend's to do list; it was about breaking out of one's whole comfort zone. Being inside a bubble is nice and all, but where is all the fun in that? The fun begins when one step out of the bubble to embrace what life throws at them.
Amidst of how much adore this book, I noticed some questions that were left unanswered by the author. How will Emily explain to her parents about Sloane's move to South Carolina? Will she able to mend her friendship with Dawn? In a well-ordered universe, these questions would be answered, but where is all the fun in that? Life deserves a little mysterious to keep the mind curious.
In a well-ordered universe, I highly recommend you to read this book. It will bring many laughter as it did to me. This is one book of Morgan Matson that I am so glade I picked up.
Rating: 4.5/5 stars