To All the Boys I've Loved Before by Jenny Han
Lara Jean Song never thought the private letters she wrote for all the boys she have ever loved would be mailed to their respected recipient. Until one day, one of the boy she wrote a letter for, came up to her about it. From then her world is turned upside down.
Jenny Han's
To All the Boys I've Loved Before
contains an intriguing story line. Lara Jean's secret love letters were sent out, which got me on the edge of their seats as to what would happen next. The author stuck to the synopsis with some minor twists along the way. By the end of the book, the author got me anticipating for the next book.
Characters bring about life to the story. Lara Jean, protagonist, is a quirky character, who is scrambling to take control of her life after she was confronted by the boys, whom she wrote letters for. She is a lovable character, and at the same time she is sill learning about love.
I finished reading in less than two days, which goes to show how captivating this book was that I couldn't put it down.
Rating
: 5/5 stars
Quotes
:
"...Life doesn't have to be so planned. Just roll with it and let it happen," (120).
"This is the moment I realize I don't love him, that I haven't for a while. That maybe I never did. Because he's right there for the taking...But I don't want him. I want someone else. It feels strange to have spent so much time wishing for something, for someone, and then one day, suddenly, to just stop," (283).
"...I think I see the difference now, between loving someone from afar and loving someone up close. When you see them up close, you see the real them, but they also get to see the real you...." (354).
"...And I'm certain, I'm so suddenly certain that everything is exactly the way it's supposed to be, that I don't have to be so afraid of good-bye, because good-bye doesn't have to be forever," (355).
Exciting news (updated cover 5-2-2015)
:
A sequel,
P.S. I Still Loved You
is going to be released May 26, 2015.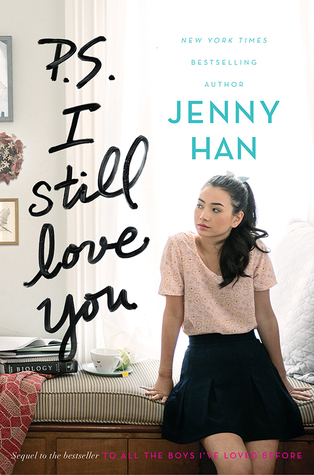 P.S. I Still Love You by Jenny Han
Source: Goodreads
Video
:
Video: To All the Boys I've Loved Before by Jenny Han Review
Work cited
Goodreads.
To All the Boys I've Loved Before.
2015. Web. 18 February 2015.
Han, Jenny.
To All the Boys I've Loved Before
. New York: Simon & Schuster, 2014. Print.